Walk Thru the Bible (WTB) is hosting a Pastor/Staff Preview of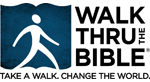 otLIVE, a brand-new Old Testament live event designed for reaching a new generation. This preview will take place at Johnson Ferry Baptist Church in Marietta GA on Thursday, January 17, 2019, from 10:00 AM to Noon. 
Using a fun and interactive approach in just 2.5 hours, participants of otLIVE will see the major people and events of the Old Testament in chronological order in 40 memorable stories. Over 75% of otLIVE participants make a 40-day commitment to read the Bible every day.  Lakewood Baptist in Gainesville GA participated in the prototype development of otLIVE and had over 400 in attendance. Scott Smith, Discipleship Pastor, commented: "if you feel the need to address your congregation's ability to understand the meta-narrative of the Bible, I'd greatly encourage you to look at Walk Thru the Bible." One of the standout aspects of otLIVE is that families can participate together. Tom Smiley, Senior Pastor at Lakewood, shared "it was a multi-generational experience and everyone enjoyed it!". 
WTB offers this free preview just for pastors and church staff to experience otLIVE. David Hodge, WTB's Director of Strategic Partnerships, is encouraging church staffs to attend together. "We recently hosted a Pastor Preview at Prestonwood Baptist in Dallas and it was inspiring to see church staffs sitting together, laughing and learning. We recognized it was more than just a preview, it was an opportunity to come closer together with their teams while experiencing the power of God's Word." 
Contributor
More Posts from Tim
I've yet to have anyone disagree with me that we need to do a better job at getting kids into God's Word! We all know that it is important for our kids to be reading, studying and applying the Bible.

Our Sunday School leadership met earlier this year and discussed the concerns regarding Biblical illiteracy and the need to develop Bible skills in each child. We committed ourselves as Sunday School leaders to lead the charge to engage children with the Bible.